what more can I say?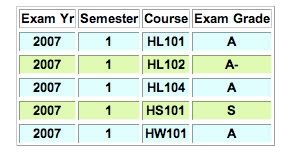 received my results a while ago; almost couldn't believe it when I first took a look. I actually had to do a double take and confirm it was my name on that page. and afterwards, pure joy ensued.
as I mentioned earlier, the inherent uncertainty of not doing well, what with being away in the Army for years, having a hard time in JC, and the bad spate of events during the few months in school, had somehow led me to believe that I would average out this first try. and yes, I was afraid.
what more can I say? I would never have dreamed of ending my first semester in University with a GPA of 4.875 out of 5.
above anything and anyone else, thank You Lord. You are truly faithful.
Your joy is my strength! :-)